Apart from the professional cabin preparation of cars, ships and passenger trains and on-site training seminars we also offer the right equipment for sale. We are particularly proud of our Mobile Smart Repair Box, an in-house-development of TKS. However, we also offer further products of our partners. In addition to our Mobile Smart Repair Box please find below an excerpt from the product range of our partners. We would be pleased to give you further information in a personal conversation.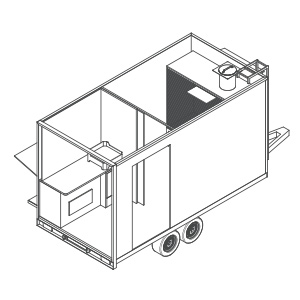 MOBILE SMART REPAIR BOX
With our Mobile Smart Repair Box (Patent-No. 10 2018 108 699) you are able to carry out on-site painting work of small parts up to 1,50 meters wide on an efficient and costsaving basis. Compared to using a normal paint booth, you are more flexible and costs will be lower. For example, our Mobile Smart Repair Box is very well suited for use in the repair and painting of vehicles and aircraft components. The box has two separate rooms for painting and preparing. The work area is also heated. The highlight: The box is ready to use in no time, only a power supply (400 V / 16 ampere) is needed. Please find more detailed information in our product flyer.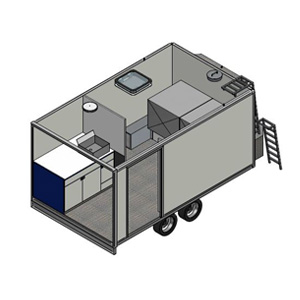 MOBILE SMART REPAIR BOX XL
The mobile Smart Repair Box XL is out now! Due to its increased width of 2,50m, you can now paint even bigger parts like car bumpers, fenders and large rims. The installed floor heating in the work and paint compartment ensures ideal working temperatures even in cold seasons and environments. With the newly integrated recirculation air heating the paint compartment can also be used for drying the freshly painted components. Temperatures up to 52°C are possible. Depending on the requirements and circumstances, the user can choose between the two different heating systems.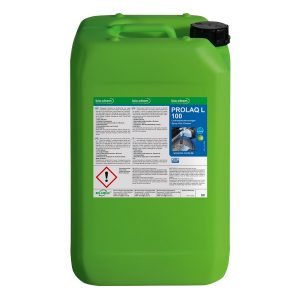 PROLAQ L 100
PROLAQ L100 is used for cleaning paint application and processing tools such as spray guns, pumps, filters, brushes, pipes, stencils, etc. It is pH neutral, based on water and is particularly suitable for removing various aqueous paint and varnish systems. In combination with the cleaning system PROLAQ Compact and PROLAQ Auto, an optimal effect is achieved, which prolongs the service life of the cleaner and so increases its cost-effectiveness.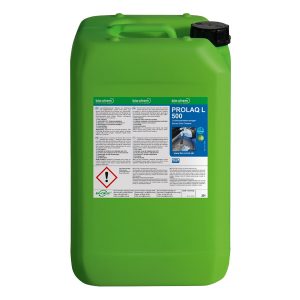 PROLAQ L 500
This cleaner has a consistently high cleaning performance. It has high-quality components and is able to remove solvent-based paints like 1K, 2K acrylic or epoxy paints, melamine and alkyd. As it is a non-inflammable product there is no risk of fire for the company. PROLAQ L 500 is suitable for use in PROLAQ Compact and in PROLAQ Auto. Recyclability is improved as the cleaner can be reused up to 5-10 times. It can be easily disposed of via solvent waste.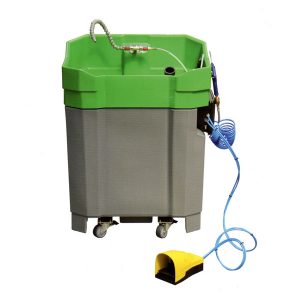 PROLAQ Compact
Mobile PROLAQ Compact offers the user a high range of flexibility. It cleans a wide range of painting tools like nozzles, squeegees, plates or dispensing tubing airless systems. The robust cleaning system – made of plastic -is operated with compressed air via footswitch. A high-quality flow brush guarantees an optimal cleaning result. A compressed air gun on the the side provides a quick way to dry the cleaned parts.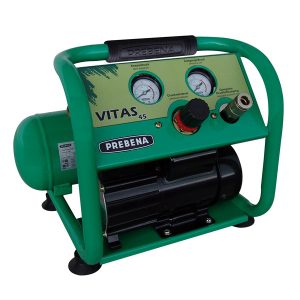 Compressor VITAS 45
Oil-free, easy to handle and exceptionally light – that´s the VITAS 45 compressor. It is a compact piston compressor for mobile use. The unit is equipped with protected fittings, each has a pressure gauge for the boiler and the outlet pressure. It is easy to transport, has a pressure reducer, a regulated compressed air connection and solid rubber feet as well as a handle with anti-slip coating.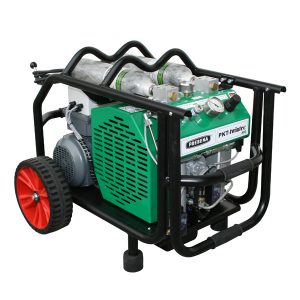 PKT twintec 400
This device has the following standard equipment: fast refilling of PREBENA compressed air cartridges, condensate automatic, automatic shut-off, automatic restart, solid tube frame, operating hours meter, fully automatic filling valve for filling 1 or 2 cartridges, type-approved safety valve, folding handle, solid rubber wheels, pressure reducer, regulated compressed air outlet, pressure gauge for the filling and outlet pressure, motor protection switch. It does not require approval by the German vehicle inspection agency (TÜV). Maximum operating pressure is 330 bar, maximum working
pressure is 10 bar.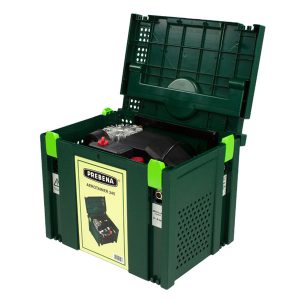 Aerotainer 245 Compressor
Thanks to its compact design, the PREBENA AEROTAINER 245 compressor is safely stowed in the high-quality plastic systainer and therefore ideal for transport. The aggregate and the fittings are well protected against dust and dirt. With the help of this practical systainer design, it is possible to add additional systainers with a few simple steps. Thanks to the compressed air outlet, which is easily accessible from the outside, the compressor is also very user-friendly and ready for immediate use.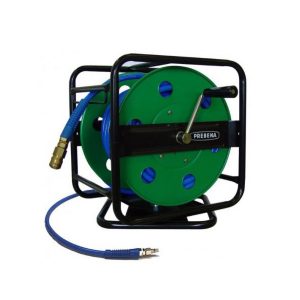 Compressed air hose reel 30 meters
Hose with very good flow properties, temperature independent, retractable crank for safe winding and unwinding, connecting hose 1 meter, maximum working pressure 15 bar.